European stock markets have fallen into the red this morning, despite the encouraging news from Germany.
Instead, the disappointing slowdown in China's retail sales and industrial output growth is worrying investors, coming on top of the existing trade war jitters.
Italy's FTSE MIB is the worst performer, down 0.7% after deputy prime minister Matteo Salvini threatened to break EU budget rules yesterday.
The French CAC and German DAX are both down 0.5%, while the UK's FTSE 100 is basically flat.

Matthias Weber, Economist at the University of St.Gallen, also believes Germany isn't investing enough – because it's obsessed with balancing its budget.



Public investments in railways, roads, bridges, childcare centers, public schools, and renewable energy are much needed. Such investments could currently be made at an extremely low (even negative) interest rate and they would boost the slowing aggregate demand.

It is unfortunate that some politicians cling to an economically unsound "concept" of zero debt and therefore miss out on these investment opportunities for Germany.
Germany's economy ministry has welcomed the pick-up in growth last quarter — but also warned that the US-China trade war is still a key threat.
In a new report, the ministry says:



"The German economy has not yet overcome its weak phase with the good start to the year – that will only be sustainable if the external environment improves and the uncertainty particularly caused by trade conflicts decreases."
Chinese retail sales and industrial production disappoint
Weak economic data from China overnight is fuelling concerns that its economy is suffering from the trade war with the US.
Chinese retail sales growth fell to 7.2% year-on-year in April — the weakest annual reading since 2003. That suggests consumers are cutting back — either because they're worried about economic conditions, or because they've simply got less disposable income.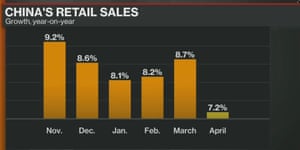 Industrial production also struggled — growth slowed to just 5.4% per year, the joint-weakest reading since the 2008 financial crisis. That could be a sign of weakening demand, either due to domestic weakness or lower overseas demand (or both!).
This really should set alarm bells ringing in Beijing — and could force policymakers to take fresh steps to help its economy.
Michael Hewson of CMC Markets says:



There is no sugar coating these numbers, they are dreadful and show that the March rebound was probably a flash in the pan, or a symptom of a distortion caused by Chinese New Year.

This sharp slowdown increases the likelihood that we will probably see further attempts by China to help stimulate its economy, as well as raising concerns that any hopes of a Chinese economic rebound helping to prompt a global pickup in economic activity look a little bit forlorn at this point in time.
China accuses US of smearing Huawei
Over in Beijing, China has hit out at America over its treatment of companies such as Huawei.
Foreign ministry spokesman Geng Shuang has accused the US of using its national power to dishonourably "smear" Chinese companies.
He was commenting on reports that Donald Trump will sign an executive order this week banning US telecoms firms from using telecommunications equipment made by firms which pose a national security risk.
That could tee up a formal ban against Huawei, due to its close ties to the Chinese state [the US has already charged the company with fraud and theft of intellectual property].
Yesterday, Huawei's chairman offered to sign a "no-spy agreement" with the British government — a remarkable offer really.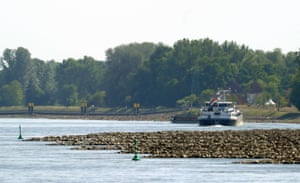 Germany's return to growth coincides with a rise in water levels on the Rhine river.
The Rhine suffered a large decrease in water levels last summer, which prevented some large barges from using it to shift goods. That drove up transport costs, and had a damaging impact on economic output.
Bloomberg says it was a factor behind last year's stagnation



Europe's largest economy barely skirted a recession last year after it took a hit from factors including disruption to automobile production and low water levels on the River Rhine transport artery. While some of those issues have faded, more pronounced protectionist measures could damp business sentiment in the export heavy nation. Thyssenkrupp on Tuesday noted a "weakening macro environment" as it reported a drop in profit.

An escalating trade war is "very difficult for any country or economy that is highly dependent on foreign trade like Europe, and particularly Germany," said Erik Nielsen, chief economist at UniCredit Group. "They are going to be hit more than the others, so this is the big fear."
Updated

Germany's welcome return to growth in the last quarter suggests that any panic about the state of the eurozone's largest economy was overdone, argues Carsten Brzeski of Dutch bank ING.
He writes:



Today's GDP data is balm for the soul of the German economy.

It also confirms our long held view that not all is bad in the German economy. Some of last year's one-off factors have turned around, the German automotive industry might have seen better times but should not be written off and private consumption remains solid. In fact, the ongoing dichotomy between struggling industry and strong domestic demand continues and at least this time around ended with a positive outcome.
But… Brzeski also argues that Germany needs to boosts its investment (both by the government and by companies):



Just as weak GDP data in the second half of 2018 was not purely a result of wrong policies and business decisions or a sign that the German economic business model should be discarded, so today's strong data is no reason for complacency.
Domestic demand has helped Germany's economy extract itself from its recent stagnation, points out Aila Mihr of Danske Bank:
But she also points out that recent surveys of manufacturers have been gloomy, so 2019 could still be tough.
Germany's economy ministry Peter Altmaier has hailed today's growth figures, calling them a "first ray of hope".
But Altmaier has also warned that the US-China trade war is still threatening the German economy.



"The international trade disputes are still unresolved. We must do everything possible to find acceptable solutions that enable free trade."
Altmaier also called for red tape and taxes to be cut to support German firms.
Introduction: Germany returns to growth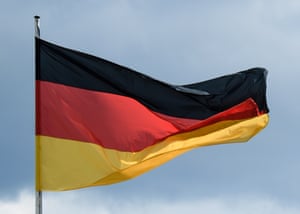 Good morning, and welcome to our rolling coverage of the world economy, the financial markets, the eurozone and business.
Germany's economy has shrugged off the risk of a recession by bursting back to growth.
New government figures show that German GDP expanded by 0.4% in January-March, an encouraging sign for the European economy.
That ends a six-month period with no growth at all! Germany contracted by 0.2% in July-September last year, and then stagnated in October-December.
That means Germany has only grown by 0.7% over the last 12 months, dragged down by a weak global economy and problems in its car sector.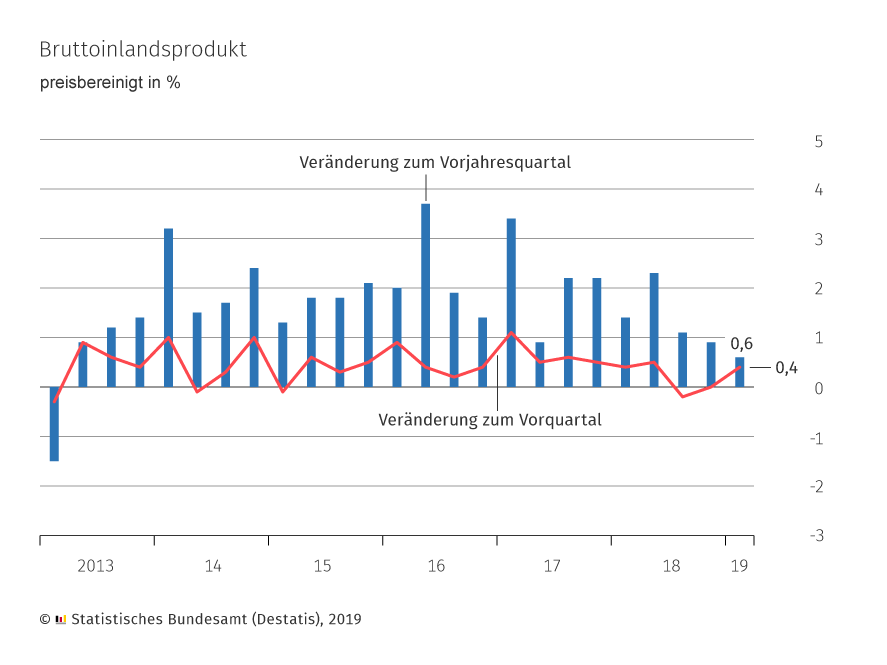 At 0.4%, Germany has matched the average eurozone growth so far this year- but is a little slower than the UK's 0.5% growth.
Statistics body Destatis reports that private consumption, construction and business investment all boosted German growth, while government spending declined.
Both imports and exports rose during the quarter, which also suggests domestic and overseas demand has picked up.
More to follow!
Also coming up
The US-China trade war still hangs over the global economy like a smog.
Investors are clinging to hopes of an eventual deal, sending stocks higher in Asia today after a bounce back on Wall Street last night. Some conciliatory tweets from Donald Trump last night, promising a deal 'when the time is right', are helping.
We'll also be watching the energy sector, after it emerged that the opposition Labour government has drawn up plans to nationalist Britain's energy networks below their market value, if they won the next election
The agenda
10am BST: Eurozone GDP for Q1 2019 (second estimate)
1.30pm BST: US retail sales
Updated